Community Ophthalmology
Life time free services for registered freedom fighters and their spouses.
Free screening camp for economically under-privileged on 2nd & 4th Sundays of every month.
Regular Out-reach programs in interior villages in collaboration with Bharat Sevashram Sangha and other NGOs.
Free Diagnostic and Surgical services for deserving indigent patients.
Discounted services for Senior Citizens (60 years and above, age proof mandatory)

Organised free eye check up camp on 13th and 15th OF May, 2015
Organised free Eye Check up camp for the workers of Hindustan National Glass India limited at their Rishra unit on 13th and 15th of may 2015,
7th February, 2014 Sri Sri Vidya Mandir School (Metropolitan).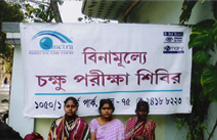 23rd February, 2013 Hotor Eye Camp at Hotor Milon Mandir.
Every year, in the month of February, our Director Dr Amitava Biswas conducts a Free Eye Camp at Hotor Milon Mandir in memory of (Late) Founder Trustee Dr Anil K Biswas. (Late) Dr Anil K Biswas was instrumental in setting up Calcutta Eye Research Foundation, a registered public charitable trust and the parent organization of Sunetra FamilyEyecarecentre. (Late) Dr Anil K Biswas was a benevolent physician who dedicated most of his professional life in practising Community Medicine for the have-nots. He hailed from a village near Hotor and left for his heavenly abode on 21 Feb, 2006. Ever since Feb 2007, his son and our Director Dr Amitava Biswas conducts a Free Eye Camp at Hotor to serve the people of that region in memory of his late father. Also, he personally sponsors ALL the vision-restoring surgeries generated from the camp. At the camp today, 138 patients were examined and 28 of them were selected for vision-restoring cataract operations. The surgeries will be conducted at our centre over the next few days. [Note: All except the last pic were clicked by Dr Amitava Biswas himself.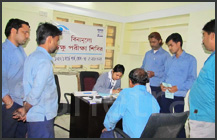 22nd December 2012, Hotor Eye Camp
Registration Desk — with Rakhi Guha Roy; Counseling of surgical patients by our director Dr Amitava Biswas; Dr Gautam K Mitra in action; Lakkhi Mondal is assisting; Bishakha Mondal at the Refraction cell.
31st December 2012, Dr Gautam K Mitra examining a child at the weekly free eye camp at Naba Janakalyan Samiti, Mukundapur